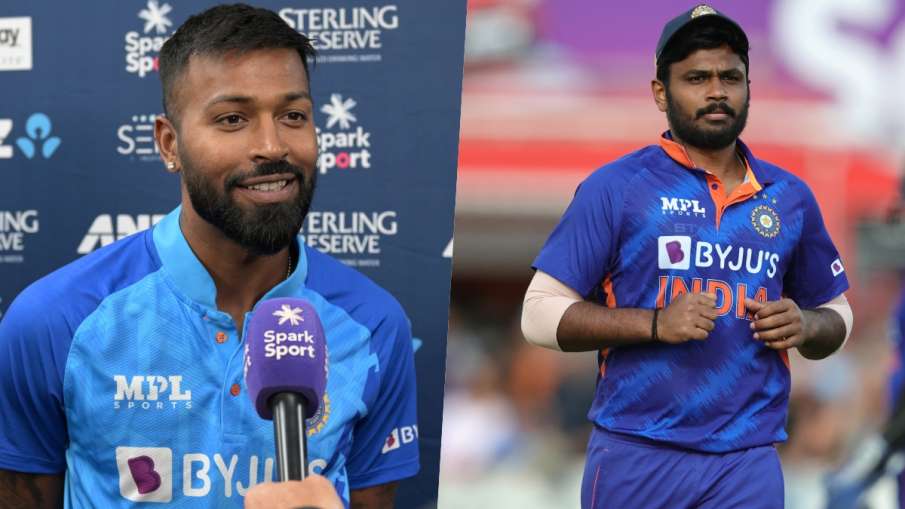 Sanju Samson-Hardik Pandya: Team India has won the three-match T20 series against New Zealand by 1-0. The Indian team definitely won the series but many things continued to be discussed, the biggest of which was the young Umran Malik and Sanju Samson not getting a chance. Many angry reactions of fans are also being seen continuously on social media regarding Sanju. Meanwhile, Hardik Pandya, who went on this tour as the T20 captain of the team, has now made a big disclosure while breaking the silence.
Actually everyone wanted to know why Sanju Samson is being discriminated against? Why is he not being given a place in the team? Hardik Pandya has answered all these issues after the series against New Zealand. Pandya has admitted that it is very difficult to be in Sanju's place at this time and he can even think of putting himself in his place. But unfortunately he could not get a place due to various reasons. Along with this, Pandya has also talked about Umran Malik.
Hardik Pandya gave reasons
On the question of not giving place to Sanju Samson and Umran Malik, Hardik Pandya said, 'There is still a lot of time left and everyone will get enough chances. If this series was big or even all three matches were played, then maybe you could have seen those players in the team. But I don't believe in making too many changes in short series. In future also my thinking will remain the same in this matter. However, it is difficult for any player to stay on the bench continuously, but believe me, there is nothing personal in it and it depends only on the team combination.
Pandya further said, "I am always ready to answer the players or the coach himself in this matter. If anyone finds anything wrong, they can talk to me further. I can understand their feelings." Sanju Samson's issue is unfortunate. We wanted to play him but due to some strategic reasons he didn't play. I can understand if someone replaces him then it is not easy sitting on the bench. But it has to be done and I am also always ready to talk to him on this. If he feels bad then he can talk to me or the coach. But even if I continue to be the captain, this will be my thinking in this matter.
Significantly, Sanju Samson made his T20 debut for India in 2014 but till now he has been able to play only 16 T20 Internationals. This year also his performance has been good. In the IPL, he also made his team Rajasthan Royals the runner up under his captaincy. He has more than five and a half thousand runs registered in T20 cricket. KL Rahul, Ishaan Kishan, Rishabh Pant all made their international debut after him but still you can see their statistics in the link below. But the same question again arises for Samson, why such discrimination with him?
Read this also:-
Latest Cricket News